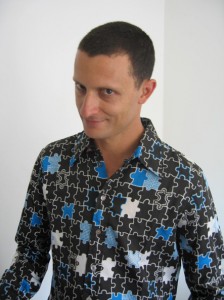 is a dancer and choreographer, he is member of the first generation of italian Butoh dancers. He started to explore Butoh dance since 1996 as an evolution of a theatrical research. He trained in Europe and Japan with the most representative masters such as , Pierpaolo Koss Ko Murobushi, Masaki Iwana, Min Tanaka, Kazuo and Yoshito Ohno, Akira Kasai. He has also studied and worked with some European contemporary dancers such as Lindsay Kemp, Dominique Dupuy, and Enzo Cosimi. Alongside with that he is developing a personal research on Butoh, which has took him towards his own cultural roots. Taking responsibility to contextualise his work in order to meet a more authentic dance.
In 2001 he founded NON COMPANY a dance research team that takes care of investigating the hidden meanings of the Butoh dance, exploring Italian cultural backgrounds. He is currently running an intense artistic and didactic activity in Italy conducting weekly classes, intensive workshops and master classes. He is also very active performing and teaching in Europe (England, Spain, Germany, Switzerland). In 2006 he started, all around Italy, a project of artistic formation intended as "Best Practices", a series of intensive and residential dance workshops, where dance training and the performing work are synergistically combined with a practical work, that is activities culturally and socially useful for the environment and the communities that host the workshop. The aim of this project is to raise the people awareness on the possibility to establishing a direct and fertile relationship between the art community and the social context.
Since 2008 he is researching in Shiatsu and he followed professional courses at the Academy Shiatsu Do in Rome, graduating himself as a certificated operator in 2010. Since 2009 he has been teaching in the "Master of Social theatre and Dramatherapy" for the Department of Arts in La Sapienza University in Rome. Also from 2009 he is teaching at N.U.C.T. (New University of Cinema and Television) at the Cinecittà Studios in Rome. In 2011 he was invited as dancer, teacher and choreographer to partecipate to the 5th International Butoh Dance Festival eX…iT! in Schloss Broellin organized by Yumiko Yoshioka and Delta RA'i (Berlin – Germany).
NON Company Presentation:
NON COMPANY is a network of dancers, created by Alessandro Pintus in Rome in 2001. The common need to investigate the meaning of Butoh dance and body today, through direct personal experience, has allowed us to start a collaboration of artists and dancers driven by wishful thinking, research and mutual exchange that leads to liberation from the expectations of freedom of the body. NON COMPANY is the living testimony of anonymous bodies. A meeting, an event NON expected, a hungry desire. The possibilities included in an empty space. The manifestation of the invisible spirit of the dance, which can NON be owned as mutable essence of life. Alliance before a company, a common purpose rather than an art form, a search in progress and is NON a model defendant.
Info and contacts: 3384358187 – butopintus@tiscali.it – www.alessandropintus.com