Nubes 2015
one day butoh dance workshop by Alessandro Pintus
28. June 2015 from 12:00 pm to 18:00 pm
at "Kinder- und Jugendmuseum" in Munich, Arnulfstrasse 3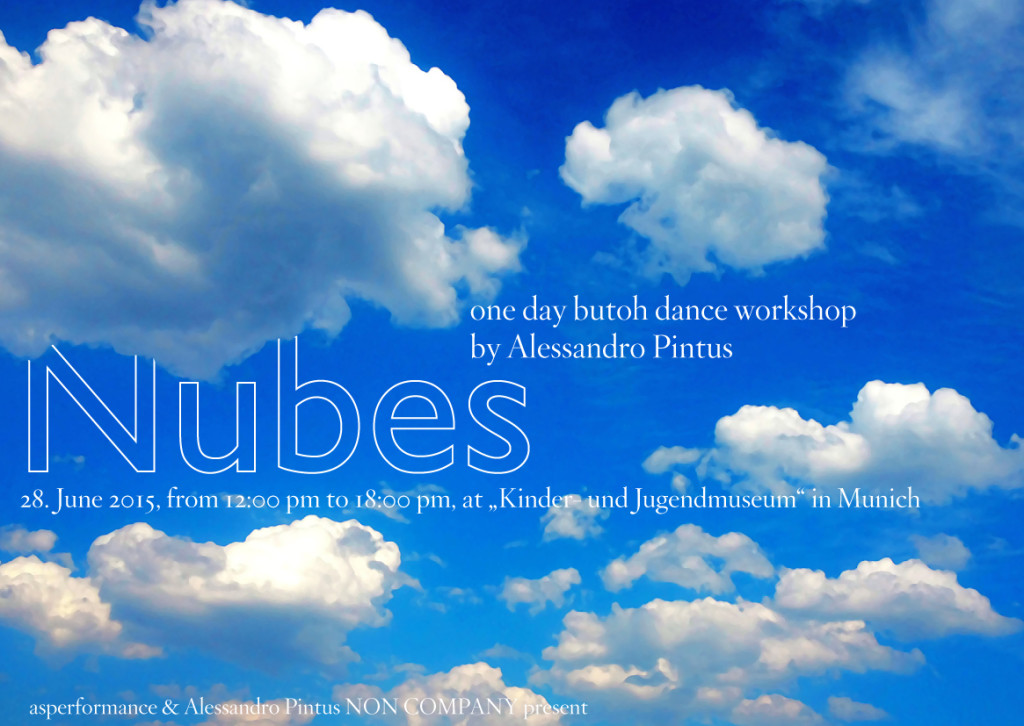 Dance comes from a very faraway place. Its language is so immediate, that it leaves us speechless, opening our movements to a new and wider dimension of meanings. Through dance we have the chance to talk with our higher essence and to approach our authentic body, allowing ourselves to be moved from above…

Frauensee 2015
CAELESTIS CARNIS – dancing Skies across infinite Light
Intensive Butoh Workshop at Frauensee/Austria from 13th to 20th of September 2015
led by Alessandro Pintus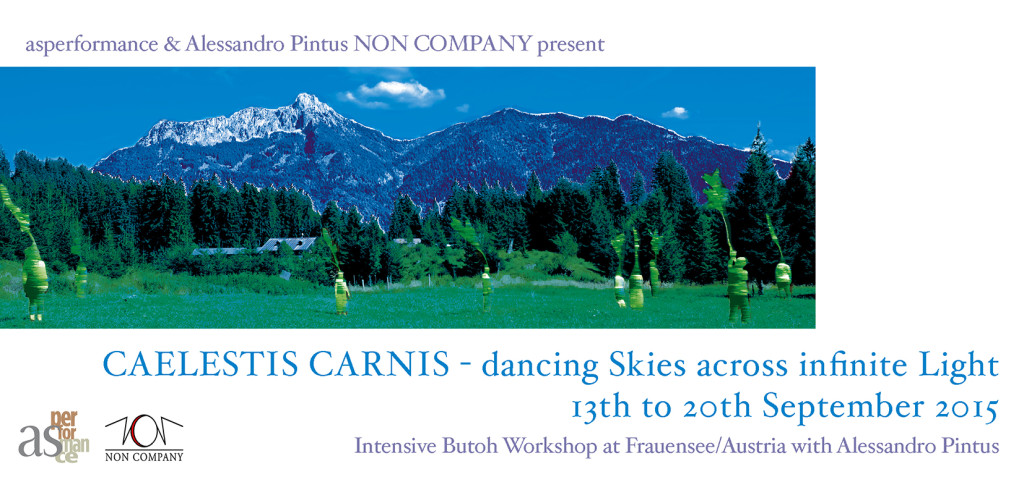 "Imagine there's no heaven, It's easy if you try, no hell below us, above us only sky"
(John Lennon)
The theme of the workshop is focused on the element air and the idea of the sky as a creative space, which surrounds us and is the origin of our dance-life. At every age, human beings have always looked up at the sky wondering about the meaning of life and its origin. People have always dreamed of traveling into space in search of their roots, because we belong to the sky, and one day, we will come back to source of our existence. To begin a journey up to the deep outer space, we first need to create the universe here and now. We need to transform our material body into a spiritual substance, in order to become light and shining like a clear sky, like a bright sun. Let's dance, inviting the firmament to descend onto the earth, and then we'll be ready for the heaven.
Bilder Frauensee 2013
Bilder Frauensee 2014

Through your body. Into your body. To your BUTOH
Butohkurs unterrichtet von Alexander Wenzlik und Seda Büyüktürkler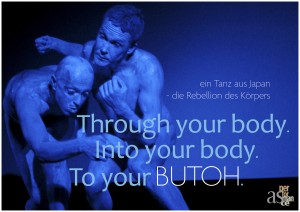 Am 8. Mai 15 ist der nächste Offener Kurs mit Seda Büyüktürkler im "Der Grüne Raum" von 19:00 bis 21:30 Uhr. Wir freuen uns auf intensive Begegnungen mit interessierten für den Butohtanz.
Lage und Plan für "Der Grüne Raum"
weitere Informationen…
(In den Oster-, Pfingst-, Sommer-, Herbst- und Weihnachtsferien finden keine Kurse statt)
Butoh-Atelier
performance-austausch-diskussion
Das Atelier geht in eine Pause – in eine Atempause.
Wir sind von den vier Veranstaltungen zufrieden und haben einfach
ausprobiert, was entstehen könnte.
Die Fortsetzung folgt, was wir jetzt schon sagen können anders mit Veränderungen.
Vom Herzen möchten wir uns bei allen bedanken. Ohne Eure Teilnahme wäre die Veranstaltung nicht möglich gewesen. Wir danken den Tänzerinnen und Tänzern: André Klotz, Christian Stübner, Christine Schwegler, Doris Försterling, Dorothee Missy, Eva-Maria Kagermann-Otte, Eva Mooser, Inge Engel, Karin Winter, Kathrin Knöpfle, Kerstin Kollender, Michael Huth, Michael Schiller, Pia Staniek, Pius Schwegler, Philipp Steigenberger und Simone Endres, den Musikerinen: Almut Döring, Andrea Rappel, Dorothea von Kietzell und Gerlinde, der Silia Giussani und dem Michael Härle vom "Der Grüne Raum", der Coletta Schillinger und Elisabeth Hagl und den allen Zuschauern, die uns tatkräftig mit Spenden unterstütz haben.
Bilder aus dem Butoh-Atelier 30.10.13
Bilder aus dem Butoh-Atelier 6.1.14
Lage und Plan für "Der Grüne Raum"